If we ask this basic question to the chestnut tree, it will give us an ambiguous answer, because every chestnut tree produces both chestnuts and marrons in greater or lesser proportion and larger or smaller, depending on the variety.
If we turn to the confectioner or scientist, the fruit called chestnut is a partitioned fruit, that is to say that a small skin (tan) crosses and divides the fruit (a bit like a nut), the chestnut is on the contrary a non-partitioned fruit, it remains whole once shelled.
The chestnut tree will produce chestnuts if the proportion of partitioned fruits is higher than 12%, it will produce chestnuts if this proportion is lower than 12%.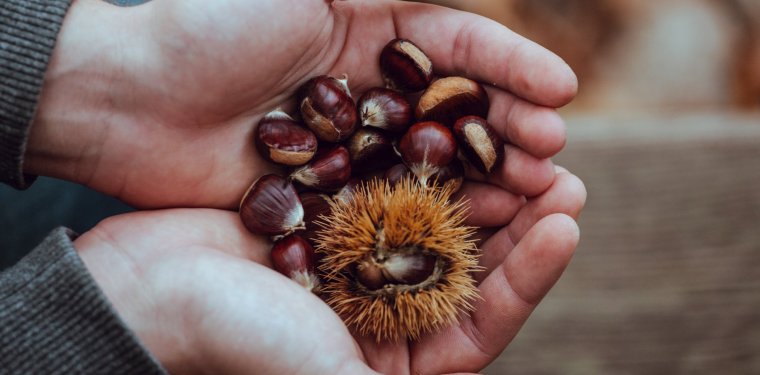 All chestnut trees come from the same family: CASTANEA SATIVA MILLER, which means cultivated chestnut tree. It belongs to the class of dicotyledons and the family Fagaceae.
This family includes several genera of which the best known are the beech (Fagus), oak (Quercus) ...
The chestnut is one of the largest trees in our forests. Its trunk is massive, its shiny and toothed leaves are rich in tannin.
This tree takes about fifty years to reach its adult size and it starts to be really productive in the middle of its growth. It lives for several centuries, some reaching a thousand years.
The origin of the chestnut tree is very old. Fossil leaves and a chestnut similar to the one of today's chestnut tree have been found in the Ardeche, in the Corion massif, dating back to 8.5 million years ago (Miocene, Tertiary era).
During the ice ages of the Quaternary era, the chestnut tree probably retreated southward and was quickly resettled in its present location. Thus, pollen grains dating back 5,000 years have been found in the peat bogs.
This tree has been established for so long in Europe that it is difficult to distinguish between stands of spontaneous origin and those of ancient cultivated origin imported from the east and more or less returned to the wild. 10,000 years ago, during the Mesolithic period, man began to use the chestnut tree and it was around the 6th century B.C. that its cultivation, called Castaneiculture, was born.
In France, the chestnut tree grows in regions of very ancient geological origin, constituted essentially by acid soils: mainly Brittany, Limousin, Cevennes, Black Mountain, Pyrenean Piedmont, the Maures massif, Estérel, and Corsica.
During the first half of the 20th century, the chestnut tree continued to play an important role in the balance of the resources of the Maures region: harvesting, grape harvesting, chestnut harvesting, olives, then hunting... Until the 1950's, chestnuts were shipped by the wagonload to Marseilles where they were sold the next day at the auction.
The chestnut grove, a protected garden