The appellation " AOC Côtes de Provence La Londe " in a few words
The appellation d'origine contrôlée (AOC) designates a product originating from a specific region or place, whose characteristics are essentially due to this geographical environment. It is the result of the combination of a production and a terroir which is expressed by the know-how of men.
The scope of this protection, initially conceived to guarantee the origin of wine, has been extended to all agricultural or food products, then to forest products and sea products.
The protected designation of origin (PDO) is the European equivalent of the AOC.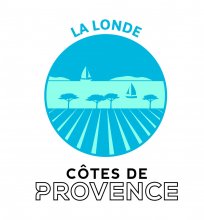 The " AOC Côtes de Provence " wines in the intermunicipality
Since May 2008, La Londe les Maures has obtained the terroir designation : AOC / AOP ''Côtes de Provence - La Londe'' delivered by the Institut National des Appellations d'Origine for more than twenty private cellars and cooperatives.
This denomination designates the wines located at the end of the coast, in the South-West of the Maures massif, where very altered phyllades outcrop.
Four communes (all or part) of the Var are included in the Côtes de Provence La Londe delimited area: La Londe les Maures, Bormes les Mimosas, La Crau, Hyères.
The immediate proximity of the Mediterranean Sea conditions the specific climate of this sector. Winter and summer temperatures are mild. Annual precipitation is particularly low (less than 700 mm/year). The duration of sunshine is important and the ventilation system by the sea breezes is almost permanent and of strong amplitude.
This terroir has 4 types of soils: soils on phyllades, stony and shallow, colluvial soils of slopes on more or less stony phyllades, colluvial soils of collapse zones with quartzite, sandstone and phyllades pebbles and soils of ancient alluvium with quartzite, sandstone and phyllades pebbles.
Key figures of the AOC " Côtes de Provence - La Londe " :
Potential area: 411 hectares
Claimed area : 80 hectares
Production : 3 500 hectoliters (rosé and red) (460 000 bottles equivalent)
Who can obtain the "AOC Côtes de Provence" ?
Wines produced in the Provence-Corsica vineyard, a vineyard in the south-east of France and more precisely in the Provence wine region.
Formore information: http://www.vin-vigne.com/appellation/appellation-cotes-de-provence.html
What is the public concerned by the AOC Côtes de Provence La Londe " ?
The public concerned by this appellation is the consumer.
For more information : https://www.vinsdeprovence.com/les-appellations/cotes-de-provence/denomination-de-terroir-cotes-de-provence-la-londe-597864e960b31